Sri Sathya Sai Aradhna Day is a perfect reminder to look for Him within, to look for Him in every individual, sanctify our lives by understanding the principle of Atma.
For the beautiful path shown by Sri Sathya Sai Baba, the Sri Sathya Sai Central Trust paid a fitting tribute to the Divine Master by helping the needy, chosing the poorest of the poor from Anantapur district and Sri Sathya Sai Districts and based on their skills, choice of earning a livelihood gave sewing machines, Agriculture sprinklers, Iron box (which uses coal), Complete electrical kits, computers, wet grinders (it's a good source of income as people use such services for making dosa, idli batter) for beneficiaries selected from 200 villages. Few of the beneficiaries were also specially abled including deaf and mute.
After facing so much hardships due to pandemic this help from the Sri Sathya Sai Central Trust was indeed like an oasis in the scorching desert, reminding the beneficiaries that Swami will never "desert" the poor and downtrodden and His Sweet nectarine stream of love is indeed a "Sai Oasis"
Earlier there was an hour long rendition of Pancha Ratna Kritis by renowned classical singers of India.
Dr. Mohan, Member, Trustee SSSCT gave a scintillating talk on Swami's limitless, compassionate love which is love of billion mothers. He urged the devotees to become love to merge in Him.
He asked the gathering to emulate the selfless seva path shown by Swami. No other Avatar in human history who.has created such an infrastructure, trusts, very kindly lent His divine name to be used for the organisation. He out of immense mercy and grace gave us this platform to be of service to the mankind till the last breath.
Dr. Mohan asked the devotees to intensify their personal sadhana without skipping a day so that we keep connected to Swami.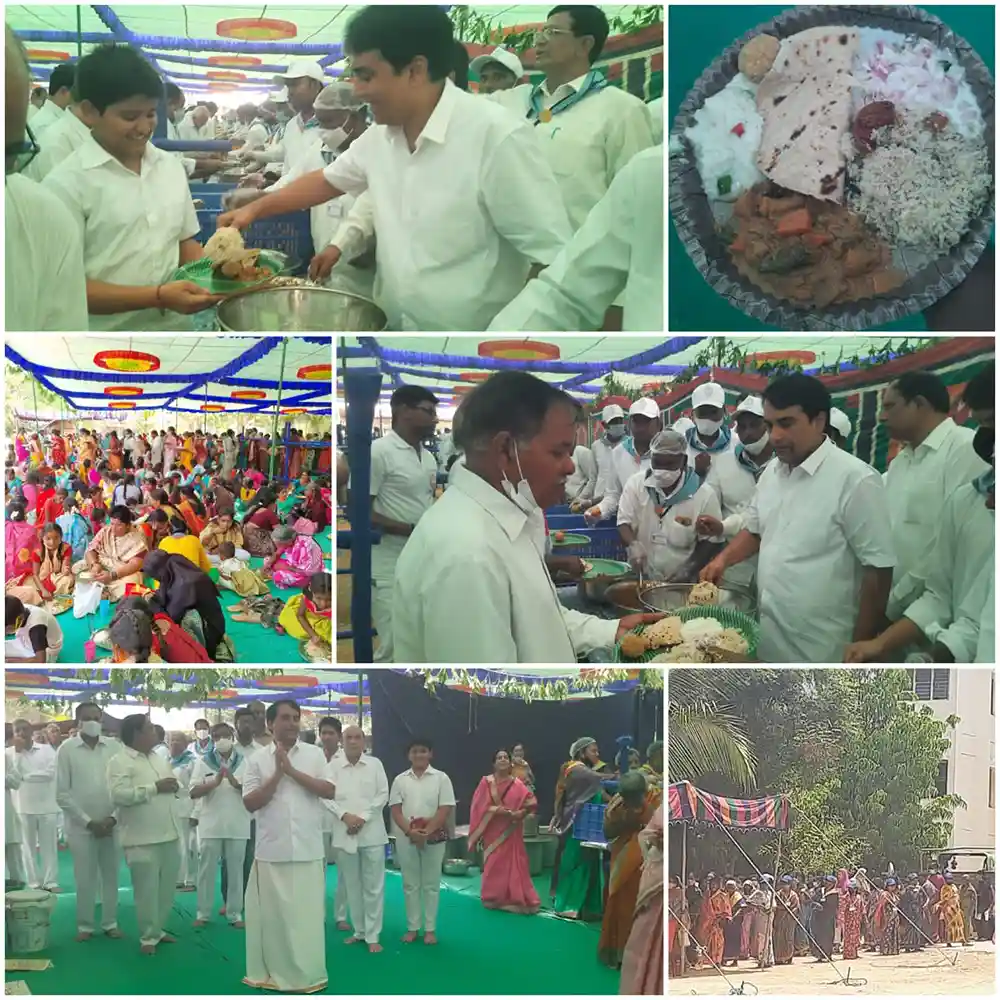 Sri. Nimish Pandya, All India President, SSSSO, India, & Vice chairman SSSGC in his talk said Aradhana Mahotsavam is a celebration for the mankind to fact check if we have lived upto His expectations. Sadhana is to follow exactly what Swami said, shying away from all the distractions the modern day world offers.
Love alone can help us cross all the obstacles. The faith should stand as a rock.
As part of preparation to.the centenary celebrations of Bhagawan's advent Sri. Pandya urged the devotees to follow His teachings and stay connected with Swami 24×7 without fail. He highlighted in his talk importance of sadhana and seva which should be observed everyday in our day-to-day life of ours. Avoid ownership/doership of any seva rendered.
Sri Sathya Sai Organisation is not about building physical institutions but transformation of the self where an individual devotees intensifies his/her personal sadhana.
Sri. Pandya also explained the need for formation of Sri Sathya Sai Global Council which is to bring every Sai center under in any part of the world under the umbrella of Prasanthi Nilayam, to have one address Sri Sathya Sai District, Prashanthi Nilayam.
98% of the devotees are now connected to Sri Sathya Sai Global Council.
He said Indian Organisation is the largest component of Sri Sathya Sai Global Council. He said for ease of administration India Sai Organisation is divided into 6 zones so that Zonal President will visit every household in their zone.
He introduced the 6 zonal Presidents of India. to the gathering.
Sri. Dr. Sanjay Agarwal, Sri. Sathyan Sharma, Sri. Narayan Sar, Sri. Anup Saxena and Prof. Mukundan, Sri. Bharath Jawar
Three veteran devotees appointed as Advisory members of executive Committee Sri. Ramesh Sawanth, Sri. Nagesh Dhakappa , Sri. Chalam were also introduced to the August gathering.
Later a new updated website for Sri Sathya Sai Organisation of India was launched
MAHA NARAYANA SEVA IN THE ASHRAM
Around 11.00 am Maha Narayana seva was arranged to more than 25,000 devotees in the open place behind North block inside the ashram where sumptuous food was served to everyone. Sri. Rathnakar, Managing Trustee of SSSCT started the inaugaral prayers at the food counter and served food to the devotees
Locals also showed their love to Swami by doing nagarsankeerthan with Swami's picture in the streets of Puttaparthi, providing cool buttermilk quenching the thirst of devotees who reached Prashanthi to seek His blessings and stalls were put up at strategic points.
Jai Sairam
Satish Naik
Puttaparthi